How to write an engaging press release
Just like blog posts and social media updates, press releases are a valuable part of your marketing strategy. They give you the opportunity to share your latest news with the audiences you care about – including, but not limited to, journalists.
The difficult part is knowing how to write them well.
A story-less, advertorial and poorly written press release has a slim chance of standing out and getting picked up by the media. On the other hand, a well written press release can grab journalists' attention and significantly increase the odds that your release will earn coverage and drive results.
So, how do you write an engaging press release that gets read and covered by the media, and makes a real impact on your business?
In this post we'll share a few tips on how to write a killer press release quickly that earns your business news coverage.
But first…
What is a press release?
A press release is an official announcement that an organisation issues to the news media and beyond. It's also referred to as "press statement," "news release," or "media release".
Most press releases are usually one or two-page long. Typically, they emulate a news article format, where the first paragraph answers the "who," "what," "why," and "where".
When should you send press releases?
You should write and send a press release whenever you have something newsworthy to share, meaning something that your audience and the media's audience will care about.
For instance, you should consider sending a press release when you're:
Launching a new product or service, significantly improving an existing one or adding extra features to it
Re-launching your website or re-branding your business
Hosting an important event
Partnering with other businesses or experts
Sharing interesting research, reports, statistics and insights
Receiving an award or reaching a milestone
Dealing with a crisis, which allows you to share your side of story before anyone else gets a chance.
Now that you know what a press release is and when to send one out, it's time to get it down in words to share with the media, your industry and audience.
How to write a press release
Find a unique angle
You're not the first business that's launching a new product or service, or sharing an industry report. So why should journalists care enough to write a story about it?
If you want to get their attention, you need to find an interesting angle to tell your story. For example, if you're launching a product, focus on the specific problem that it can solve for consumers. If you're writing about a report or a study, use numbers to show the impact on the industry, the customer base or the landscape.
Journalists are busy people. If you want them to cover your story, you need to tell them upfront why it's important and why they should care, and why their readers will too.
ModCloth's press release for their Black Friday campaign is a great example to get inspiration from: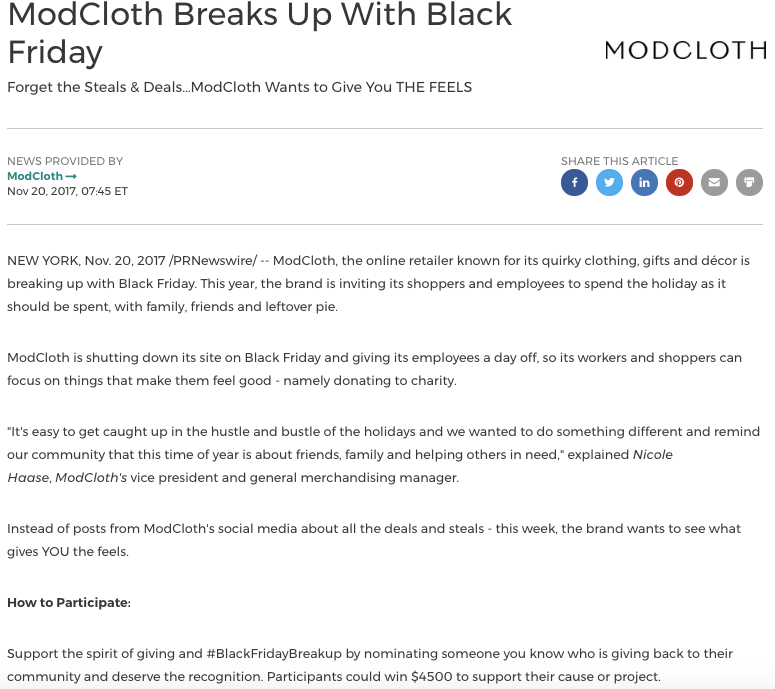 So instead of going with a generic story like "ModCloth donates $5MM in merchandise to Dress for Success", they got creative. Not only did they choose to release this story on Black Friday, the biggest shopping day of the year, but they also found a way to evoke an instant and powerful emotional response.
Read the entire press release[1] on the PR Newswire website.
Grab attention with an irresistible headline
Just like writing the perfect email subject line and blog post title, your press release's headline is critical to its success.
Journalists receive hundreds of press releases every day. If you want yours to stand out, you need to put some effort into writing a compelling headline that'll not only hook them but their readers, too.
Take a look at these two examples from Amazon and Canva: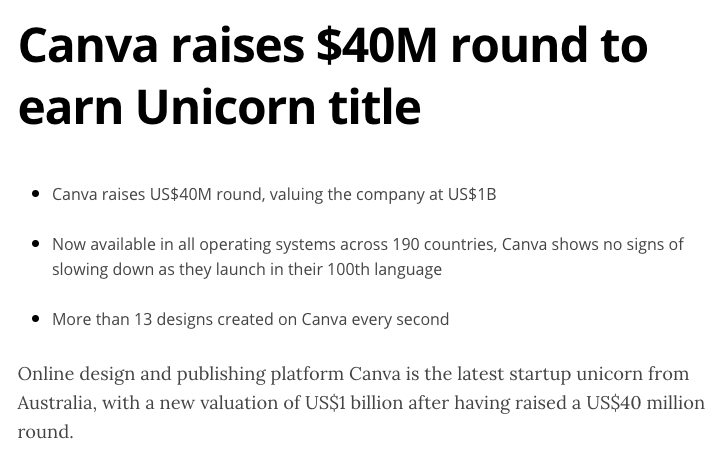 As you can see, they're both short, catchy and jargon-free.
If you need help, check out these six free tools to help you create magnetic, irresistible headlines[2].
Follow the inverted pyramid
Neither journalists nor your audience have time to sift through details and fluff background information to figure out what your story is about.
Since this is a piece of news, you need to cover the who, what, why, where, and how of your product or service launch, update, or event in the first paragraph. This is also known as "the lead" and it's vital that you get it right since it's part of your pitch.
Here are two good examples:


So think about what will intrigue journalists and your audience, and write your lead so that it immediately piques their interest in your press release.
Provide additional information
The next paragraphs should tell the complete story. This is where you go more in-depth and provide important details and information to strengthen the narrative in your press release.
Just make sure you don't go overboard as you'll risk losing people's interest and attention quickly. A press release needs to be concise, helpful and easy to understand.
Here's an example: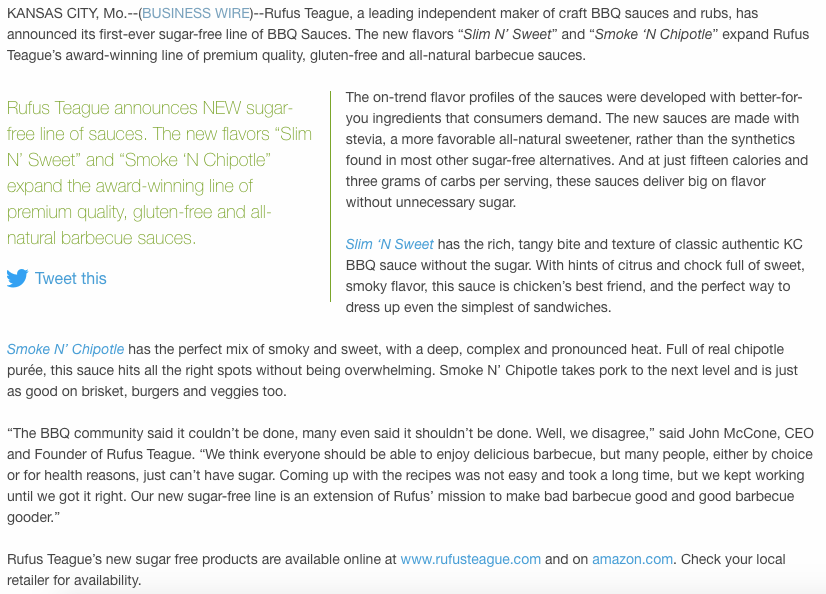 Include memorable quotes
An insightful quote from one of your top decision makers or from a subject matter expert is essential to underline the significance of your announcement.
The quote should support the narrative and help paint a picture of how your news affects your industry and customer base.
Check out this example: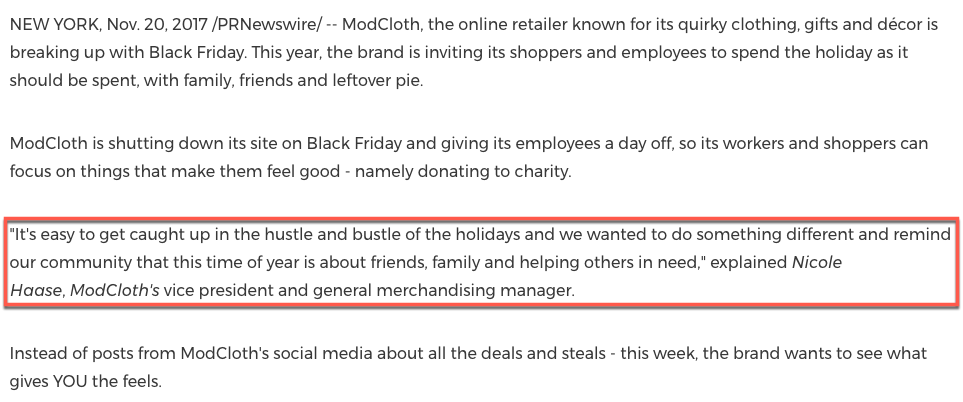 Include memorable quotes
An insightful quote from one of your top decision makers or from a subject matter expert is essential to underline the significance of your announcement.
The quote should support the narrative and help paint a picture of how your news affects your industry and customer base.
Check out this example:
Wrapping up
Every business out there should take advantage of press releases to share their latest news with the media and public. Why? Because it's cost-effective and one of the best ways to get media coverage and increase brand awareness.
Follow the advice in this post when writing your next press release and increase your chances of getting it picked up by the media.
Source URL: Read More
The public content above was dynamically discovered – by graded relevancy to this site's keyword domain name. Such discovery was by systematic attempts to filter for "Creative Commons" re-use licensing and/or by Press Release distributions. "Source URL" states the content's owner and/or publisher. When possible, this site references the content above to generate its value-add, the dynamic sentimental analysis below, which allows us to research global sentiments across a multitude of topics related to this site's specific keyword domain name. Additionally, when possible, this site references the content above to provide on-demand (multilingual) translations and/or to power its "Read Article to Me" feature, which reads the content aloud to visitors. Where applicable, this site also auto-generates a "References" section, which appends the content above by listing all mentioned links. Views expressed in the content above are solely those of the author(s). We do not endorse, offer to sell, promote, recommend, or, otherwise, make any statement about the content above. We reference the content above for your "reading" entertainment purposes only. Review "DMCA & Terms", at the bottom of this site, for terms of your access and use as well as for applicable DMCA take-down request.
Acquire this Domain
You can acquire this site's domain name! We have nurtured its online marketing value by systematically curating this site by the domain's relevant keywords. Explore our content network – you can advertise on each or rent vs. buy the domain. Buy@TLDtraders.com | Skype: TLDtraders | +1 (475) BUY-NAME (289 – 6263). Thousands search by this site's exact keyword domain name! Most are sent here because search engines often love the keyword. This domain can be your 24/7 lead generator! If you own it, you could capture a large amount of online traffic for your niche. Stop wasting money on ads. Instead, buy this domain to gain a long-term marketing asset. If you can't afford to buy then you can rent the domain.
About Us
We are Internet Investors, Developers, and Franchisers – operating a content network of several thousand sites while federating 100+ eCommerce and SaaS startups. With our proprietary "inverted incubation" model, we leverage a portfolio of $100M in valued domains to impact online trends, traffic, and transactions. We use robotic process automation, machine learning, and other proprietary approaches to power our content network. Contact us to learn how we can help you with your online marketing and/or site maintenance.